When it comes to sharing solar array costs, companies often shy away and dance around the question. They usually focus on the customization angle – telling you that prices vary, and that this is what makes estimation difficult.
Now, of course costs vary, because no two projects are the same but whether you are an installer, contractor, or a homeowner, you share two common questions:
How much is this going to cost me and how long is it going to take?
Time and money are at the heart of every project. They are the first and last things you think of. No one wants to complete a project only to later discover you overpaid. Solar module mounting on metal roofs can vary depending on your chosen method. So, where do you start your decision process?

You already know that metal roofs are extremely versatile mounting platforms. They outlast PV systems and are actually easier to mount to than any other roof type. But did you know that depending on the mounting method chosen, mounting costs can vary by as much as 50%?
---

How Do I Choose the Solar Mounting System for My Project?
We've put together a series of questions in five categories to help evaluate whether your project would be best suited for railed or rail-less solar mounting. Read the full blog here.
Download the quick guide version to use on your next project.
---
Show Me the Money
Itching for some REAL costs now? We have a cost breakdown of a real solar project. We've gathered a bill of materials for a project using rails. We lay out labor, installation, and shipping costs. We then present the project and layout using direct-attach and then compare it to the exact same project using rails.
---
SOLAR PROJECT
A Breakdown of Real Project Costs
Here is a breakdown of an actual project, priced out using rails and then using direct-attach.
Project Details:
Roof Size:

Roof Area:

System Size:

Module Specs:

Dimensions:

Module Quantity:

Seam Spacing:

Roof Space Utilization:

46' x 92'

4,232 sf

50.25 kW

LG – 335W

40" x 66.4"

150

16"

68%
---
The Rail Method

Rail Mounting with S-5-V Mini clamps
Rail-to-roof 4' - on center; 4 points of attachment per module to rail (shared with adjacent modules)

Portrait Orientation

The Rail-Less Method

S-5-PVKIT™ 2.0 direct-attached to S-5-V Mini clamps
4 points of attachment per module (shared with adjacent modules)
Landscape Orientation
How Much Does a Rail-Mounted Solar System Cost Compared to Rail-Less?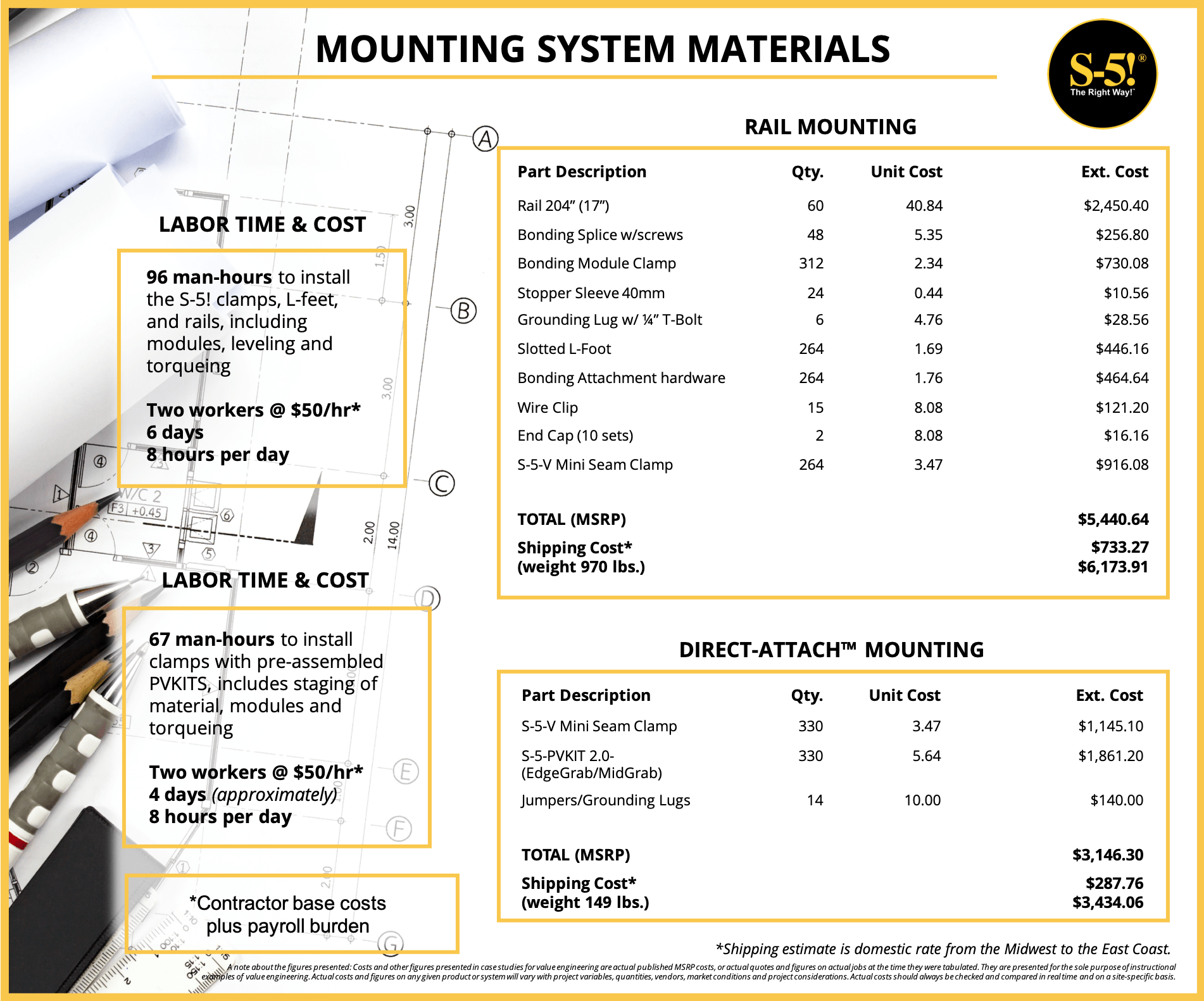 A note about the figures presented: Costs and other figures presented in case studies for value engineering are actual published MSRP costs, or actual quotes and figures on actual jobs at the time they were tabulated. They are presented for the sole purpose of instructional examples of value engineering. Actual costs and figures on any given product or system will vary with project variables, quantities, vendors, market conditions and project considerations. Actual costs should always be checked and compared in real time and on a site-specific basis.
The Savings Are in the Materials
As you can see in the bill of materials above, the number of parts needed for the same project for each system are very different. This translates to monetary and time savings. You'll have fewer parts to purchase and lower overall shipping and transportation costs. In this scenario, you can save around 44% on your material and shipping of the total system. The PVKIT also provides more uniform load distribution with 25% more attachments points. The same load distribution with the rail system would add still more cost.
But Do I Save Any Labor?
To assess the labor costs and time to install a project of this size, a survey was completed of installers who are familiar with both mounting methods.
We were told that to install the exampled rail system it would require about 96 man-hours including the S-5! clamps, the L-feet, and the rails and modules, leveling and torqueing. That works out to two workers, each working 6 days for 8 hours per day.
In comparison, to install the same system using direct-attach would require about 67 hours man-hours. This includes installing the clamps and pre-assembled PVKITs, the staging of materials and torqueing.
---
You'll save about 30% in labor costs and installation time. And you'll save over 38% for the entire installed cost of the system.
---
Here are the Total Installed Cost Savings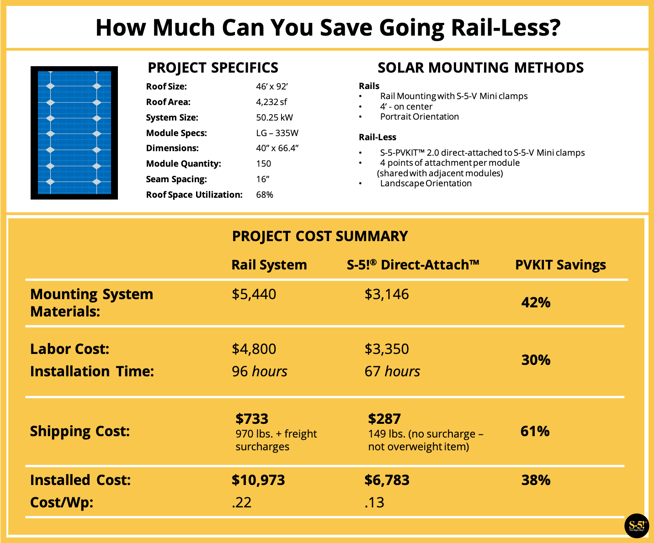 Solar Project Costs are More than Just the Panels
When you're planning your next solar PV job, it is important to consider more than just the materials. You should think about shipping, material transportation to the site, labor, installation time and cost, and any additional lifting equipment you might need.
Whether you choose to install solar modules with rails or direct-attach, you can seamlessly integrate the system with S-5! clamps or brackets on any standing seam or exposed-fastened metal roof profile. We offer options for flush rail mounting that include SolarFoot™, VersaBracket™ 47, DualGard™ and ProteaBracket™.
If you decide on rail-less solar mounting, S-5! offers the PVKIT™ 2.0. The kit comes pre-assembled with either a MidGrab or EdgeGrab to ease installation, and is compatible with all of our clamps and the following brackets: ProteaBracket™, VersaBracket™ 47, RibBracket™ I-IV and CorruBracket™. Learn more about these cost-effective metal roof attachment solutions here.
Have technical questions about your solar mounting project?
Contact Technical Support at support@s-5.com or call us at (888) 825-3432.