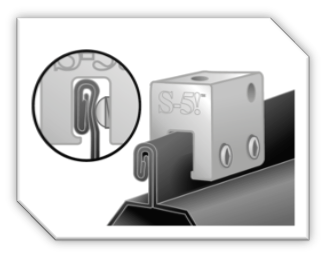 Non-penetrating rooftop mounting refers to the ability to mechanically attach a clamp to a standing seam roof by gripping the seam in such a way that there is no penetration to the panel material. The best method for standing seam clamp attachment is via round-point setscrews
Using cup-point setscrews is ill-advised as such a screw point cuts through the paint and protective coating of standing seam panels, causing corrosion and voiding warranties.
In the metal roofing construction industry, mounting ancillary items is often a convenient and necessary aspect of desired performance. Obviously, the best way to maintain the integrity of a metal roof is to allow it to function only as a roof. But various rooftop utilities such as, HVAC, piping, walkways, vents, satellite dishes, snow retention, solar arrays, signage, fall protection, lightning protection, etc. all serve critical purposes and must attach to the roof.