With our roof pitch snow guard calculator, once you enter a few key points of data, our system will quickly calculate the exact number of guards required and the recommended snow guard spacing for your engineered application. The calculator saves you time and money in the planning process. There is also an option to get a low-cost certified engineer stamp on your calculations. Read part one on why to use a snow guard calculator here.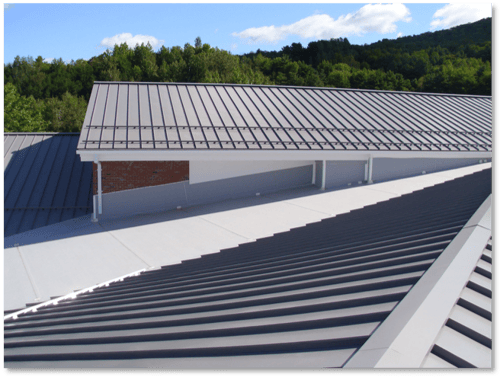 S-5! ColorGard® Snow Retention System
Using the S-5! Roof Pitch Snow Guard Calculator
Snow retention systems are not fail-safe. And all roofs are not the same. That is why you should never expose a product to forces which exceed its known point of failure – especially when these forces are predictable and can be calculated accurately for any specific application. Snow load forces must be calculated and properly applied to actual tested product capacities to ensure the right application for the right conditions. This is what is meant by an "engineered" system and is what our snow guard calculator does.
To get started with our Snow Guard Calculator, click here to create a profile. Let's login and walk through a project:

To the left you will find the measurements you need to input into the snow guard calculator.
STEP ONE: For this tutorial, we've compiled some actual job-specific measurements and other data. These are the numbers you need:
Roof snow load. (Roof snow load can be determined from building codes or from a qualified professional).
Roof slope (The units of vertical rise in inches for every 12 units of horizontal run).
Roof length – from eave to ridge
Length of roof to be protected by snow retention
Width of the panels on your roof
Tip: Unsure what a section is asking for? Click the question mark inside the square for an expanded definition. Still stuck? Contact support@s-5.com.
Click on the New Project button to get started.

STEP TWO: We need to Add a Roof to our project. Next, enter project details (project name, city and state, and measurements as either "Imperial" (US) or "Metric").

Tip: Measurement accuracy is important.
STEP THREE: Our measurements:
Title the roof –

Living Room

Snow Load - 60psf

Roof Slope - 5:12

Length of roof – eave to ridge - 15ft

Assembly length - 30ft

Roof Style –

gabled - Choose gabled for identical roof planes, single-slope for non-symmetrical planes, then add additional roofs to your project.
Tip: Save your project for potential future changes.
STEP FOUR: Enter the roof's panel widths (the seam spacing from center-to-center). Next, select a panel manufacturer and use the calculator's corresponding test load data. (S-5 has done over 3,000 load tests on almost every roof panel product in the market. That data is fed into the calculator).
Tip: For different panel manufacturers, specific product, gauge, seam height and orientation can be selected. Many panels are identical but might be sold under a different name.
STEP FIVE: Depending on specific product chosen, additional strength parameters and design elements may be requested. Use our online Clamp-to-Seam tool to view the most popular roofing profiles along with their dimensions and the clamps that will fit those profiles.
Click Save Roof & Continue
STEP SIX: Calculations complete! The S-5! calculator will provide you with an in-depth analysis of your project needs. It will systematically separate quantities of parts needed for each of the four system options.
Get Started Today
Tackling a new snow retention system may appear to be as unsettling as that mound of snow that precariously perches on your door's overhang. Our online calculator for installing snow guards will get that project off the ground and onto your roof. Snow waits for no one, get your roof ready now.