An Interview with Construction in Focus and Manufacturing in Focus Magazines - Rob Haddock recently sat down for an engaging interview to discuss the lasting impact S-5! Metal Roof Innovations has had on the industry. He walks the reader through the history of his company from wooden prototypes to the collection of over 50 U.S. and foreign patents the company holds.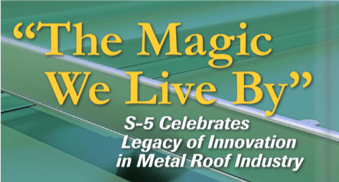 Haddock explains the worldwide presence of S-5! spanning from the Oslo Opera House to Wal-Mart Distribution Centers, Fed-Ex facilities, IKEA, Costco, Google, Apple, and others. These facilities have a variety of rooftop attachments (e.g. solar arrays, wind clamps, snow retention, fall-protection and more) securely and safely attached with S-5! clamps and brackets. S-5!'s track record dates back to 1992 and is installed on over two million roofs worldwide. The company can also boast that there has never been a single documented failure of any products or systems. This is why S-5! remains the leader in metal roof attachment solutions.
But S-5! didn't get to this point overnight – nor through luck. Haddock says, it is "a matter of knowing what we are doing. We have no competitor who comes even close to that kind of blemish-free reputation and real-world experience. While competitors do few if any of these things, we live by our mantra, doing it the right way".
Haddock defines this right way of doing business as "the Magic We Live By". S-5! strives to be the metal roof attachment experts. The continued innovation, strategic objectives and investment in research help S-5! develop and offer tomorrow's solutions for today's metal roofing.
Read the full "The Magic We Live By" interview by clicking here.