The new and improved S-5-N clamp is an innovative attachment solution that cures your nail strip profile seating issues. The clamp features an insert to facilitate installation and fit. it also fits seam profiles having a base of rib dimension < .82".
Word De-Construction
Word of the Week: S-5-N Clamp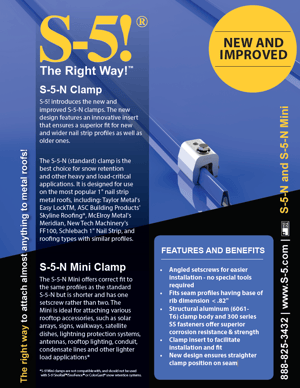 PRONUNCIATION:
/ɛs |ess | \ ˈfīv- | en /ɛn/
PART OF SPEECH: Noun | 19th Letter of Alphabet | Prime Number
SENTENCE: // The new and improved design of the S-5-N now fits seam profiles that have a < .82 base of rib dimension.
SYNONYMS AND RELATED WORDS: angled setscrews, easier installation, corrosion resistance, structural aluminum, stainless steel fasteners, nail flange, nail strip profile
FEATURES AND BENEFITS OF THE S-5-N:
Angled setscrews for easier installation – no special tools required
Fits seam profiles having base of rib dimension < .82"
Structural aluminum (6061-T6) clamp body and 300 series SS fasteners offer superior corrosion resistance & strength
Clamp insert to facilitate installation and fit
New design ensures straighter clamp position on seam
---
S-5! Clamp and Bracket Solutions
https://www.s-5.com/products/clamps-brackets/clamps/
---
Learn More About the S-5-N
---
Don't Have a Nail Flange Profile?
Non-Penetrating Rooftop Mounting: S-5! clamps attach to panel seams by tightening "bullet-nosed" stainless steel setscrews against the seam material. This is the S-5! Difference! Our engineered clamps utilize setscrews that compress the seam material against the opposite wall of the clamp and "dimple" the seam material but do not penetrate it. Once mounted, attach various ancillary items through the threaded holes in the clamp.
Are You Looking for a Bracket for an Exposed-Fastened, Trapezoidal or Corrugated Metal Roof?
Penetrating Rooftop Mounting: It is okay to pierce a roof when you need an attachment solution for exposed fastener metal roofs. But it is imperative that you install The Right Way®. This means proper weather-proofing and attention paid to potential metallurgical compatibility and ensuring the clamp chosen has been properly load-tested for the desired application.
---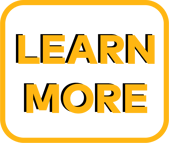 Clamp FAQs