The total cost of installing a photovoltaic (PV) system on a roof is a combination of many different expenses. These costs include the system design and engineering, solar panels, inverter, monitoring equipment, logistics costs, mounting hardware and labor. Other expenses, such as permits and inspections, will add to the overall cost.
Aggregated hardware costs relative to the whole system may be only 5-7% of the finished cost, but should be carefully considered as they also affect labor, freight, equipment and other logistics costs in the end analysis. The wide-angle picture is that if you can clip 20% or more from time spent on the job, then 20% more jobs can be executed. This increases the top line by a similar figure and a resulting bump in the bottom line.
You may be wondering how you can lower the real cost and time spent on your projects. One way to save on your budget is to use a rail-less attachment solution for every metal roof project. Over the years, rail-less mounting methods for metal roofs have gained in popularity, and it's easy to see why.
For more information on the differences between railed and rail-less solar mounting, check out our blog on Rail vs. Rail-less: Which Is the Best Solar Mounting Platform for Your Roof?
Rail-less products are much lighter than railed systems, which helps lower your racking cost. A high-quality, properly engineered rail-less mounting system can weigh 85% less than most railed systems. Given an 85% savings in mounting hardware weight and much lower freight transport, the carbon footprint and environmental impact of a project is greatly reduced.
When installing PV panels, this type of weight reduction can be critical to staying on budget and within the bounds of allowable added collateral load to the building structure. Rail-less solutions equate to up to 60% savings on shipping and transportation costs, as well as equipment needed for loading, unloading and staging at the jobsite.
Rail-less solutions come pre-assembled, involving only three components rather than 10 or more for rail systems, so there are fewer parts to manage from the beginning. Plus, once installers get the hang of the "lay-and-play" procedure, a module installation takes only about 90 seconds each.
The S-5!® PVKIT® solar solution is a rail-less, direct-attach™ solar mount for standing seam and exposed-fastened metal roofs. Using the roof's integrated "rails'' makes solar mounting with the PVKIT quick and efficient. This method also reduces the weight of the mounting system and provides 25% better load distribution, utilizing fewer components.
Rail-less installations use a metal roof's integrated "rails"
The PVKIT is compatible with all S-5! clamps and can be used with almost any S-5! attachment bracket. This cost-effective, lightweight alternative to traditional railed mounting can save time and money on your next project.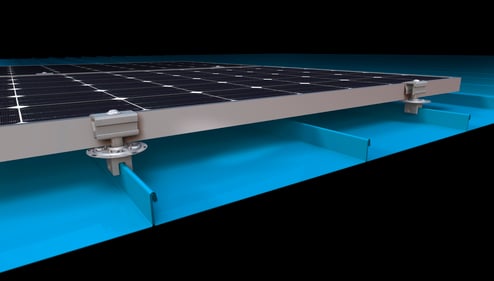 PVKIT®
With a total mounting system weight much lower than a railed system, a rail-less system allows projects to benefit greatly from savings in transportation costs. In fact, components for a 50kW system can even be nestled into your car.
Don't believe us? Check out this video of an entire 50kW system's worth of hardgoods inside a passenger car.
Rail-less installations require much less space than railed systems
Once the S-5! PVKIT arrives at the jobsite, it is easy to handle, as direct-attach components are regularly carried up to the roof in a backpack or bucket. Large- and small-scale operations benefit from the labor and transportation savings that come with choosing a rail-less attachment solution.
Ideas to Hold Onto
PV systems are a major source of energy generation and can greatly improve the value of your property. There are various cost-saving methods to consider, such as choosing a rail-less attachment solution, that can lower the overall price tag of your project.
See how much you can save on your next metal roofing solar project by visiting our Metal Roof Project Calculator or send us a message at support@s-5.com.
Enroll in S-5 University to better understand which solar, snow or utility mounting solution you should be using.