It's time! IRE – the International Roofing Expo has started in Nashville, TN. It officially runs February 11-13 in Music City Center. The exhibit hall in the Center is located in downtown Nashville – incredible roofing products and within walking distance to restaurants and local music venues. What could be better?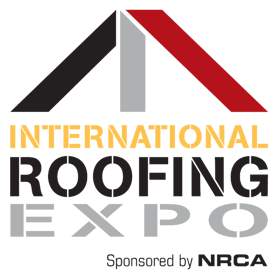 Everything Roofing and Then Some
IRE offers a little bit of everything roofing. Featuring manufacturers and suppliers of various sizes, many of those in attendance are presenting the best of the best in terms of roofing materials and industry innovation.
IRE attendance continues to grow each year. Rob Haddock, CEO of S-5! has seen this firsthand in the numerous shows he has attended.
"I look forward to the IRE every year. I get to shake hands and say "hello and thanks" to our many valued customers and friends in trade and industry on a one-on-one personal level. That's important to me because I worked in trade for many years myself and was always appreciative when a manufacturer really listened to what I had to say about his products.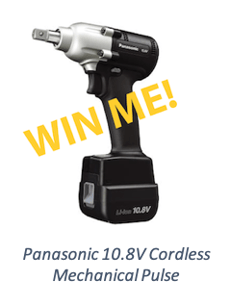 Rob Haddock
Who Can You Expect to See at IRE?
As you weave your way through sprawling Music City Center, expect to see 467 exhibitors. The show brings together both commercial and residential roofing contractors, remodelers, building owners, facility managers, builders, estimators, architects, specifiers, and engineers.
Who Shouldn't You Miss?
S-5! of course! Discover our entire metal roof attachment solution line.
As a company, we can also present them [IRE attendees] with new product offerings for a real "hands-on" look and hear their reactions and comments. That personal contact and feedback is vital to us as a growing company. It's one of our most exciting tradeshows.
NEW S-5! Products
GripperFix - Check out the new universal GripperFix system. It makes mounting almost anything on standing seam and exposed fastener profiles a cinch. Use our all aluminum and stainless system along with as many S-5! tabs as you need to mount satellite dishes, HVAC, conduit, junction boxes, and more. Check out our booth (#2045) to see the GripperFix in action.

S-5-N - The new and improved S-5-N is also now available. It features angled setscrews for easier installation.

PVKIT™ 2.0 - Also, learn more about the new and improved PVKIT™ 2.0. It is on display to prove it is the ultimate (and only) solar array attachment solution you need.

ColorGard® - Explore our patented snow retention solutions such as ColorGard. S-5! recently successfully defended our reputation and won a patent infringement suit against Ace Clamp/PMC. Come see the innovator! Don't bother with the imitators!
Fun Facts About S-5!
Head over to our booth and discover an avalanche of fun facts about S-5! and the family who built it. We know we'll have you saying, "Gosh, I didn't know that!"
We Want Your Success Story!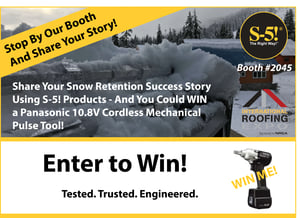 Already an S-5! fan? Share your story with us. Stop by our booth and share your success story using S-5! products. Enter your story to win a Panasonic 10.8V Cordless Mechanical Pulse Tool. The tool features a torque-controlled range of 16-53Nm and a 1/2" square drive with pin detent, as well as auto shut-off, and virtually no torque reaction.
Also, Check Out the Educational Line-Up
On the education side, I have also been lecturing about the art and science of metal roofing at IRE for many years with attendance increasing each year. This year in Nashville it exceeds 200 - so it will be a lively couple of sessions!" (CEO Rob Haddock)
Where You'll Find S-5!
We're in Booth #2045! Stop by to see all of our metal roofing solutions and grab a beer with us! The show runs from 11:00 to 5:00 on Monday and Tuesday, and 11:00 to 3:00 on Wednesday. Learn more about all of our metal roofing attachment solutions at www.S-5.com.