Being the experts on all things metal roof and metal roof attachments, we are often asked by solar developers and installers what is the most cost-effective way to install solar panels on metal roofs. There are multiple options when putting solar on a metal roof, and each come with pros and cons that can impact installation costs and lifetime performance.
But can I get performance and save money?
Yes - sometimes you can, but proceed with caution! We are all cost-conscious, but don't rush and risk the durability, longevity and weather integrity of a finished system. Your chosen mounting method can have a profound effect on the cost of materials, total installation time and labor, material handling and logistics, freight expense, etc. All of these factors also have a positive or negative effect on the cost and integrity of the finished system as well.
Let's examine how to install solar PV on a metal roof and how these might impact cost because of increased (or decreased) parts and labor.
Metal rooftop mounting can be broken down into two basic parts: the (roof) mounting hardware part and the solar panel attachment part. In cases where these two parts do not line up or are not compatible, a third part is needed as an interface. Rails commonly serve this purpose, but other components can be used as well.
Rail-Based Installation:
A common installation method for PV is the use of rails to interface between the solar module attachments and the roof mounting attachments. Since there are no alignment issues with rails, PV modules can be installed anywhere on the roof and as close together as desired. However, it is good practice to have periodic walkways to provide access for maintenance and repair.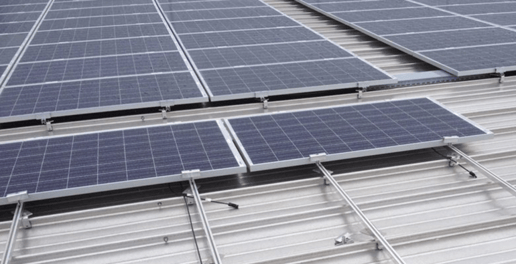 Rail-Based Solar PV System
Source: Rooftech.de
Rail-Less Installation:
With rail-less installation, also known as direct attach™, the PV module attachment and the roof attachment are a single assembly, so rails are not needed to provide a separate interface. This substantially reduces material and installation time and labor. In most cases, the system design can be the same as with a rail-based system. Sometimes however, small, periodic gaps (correction gaps) may be advised between rows or columns of modules to correct for instances when the seam or rib of the roof does not align with the module manufacturer's recommended mounting locations.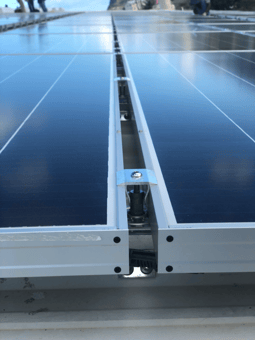 Rail-less (Direct-Attach) Solar Installation
Source - S-5!
---
Micro-Rails Installation:
A third, less common installation method is using only small rail sections in the exact areas needed. This reduces the total length of rails, but there is generally an increase in installation time, due to handling and installing more pieces and there may be a reduction in holding capacity.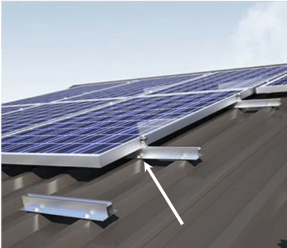 Micro-Rail PV Installation
Source - Indiamart.com
Other Methods:
Besides the installation methods described above, other components can change an installation. A common part is a stand-off or leg that can be installed to tilt the solar modules towards the sun. This will increase electrical production for each solar panel, but requires a larger gap between modules to accommodate for shading. This will result in a substantially reduced total system size, which is another important factor to consider when finalizing a solar PV design.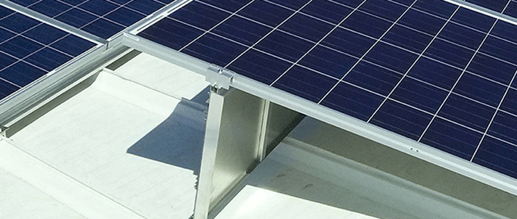 Tilted PV Solar Modules
Source - S-5!
Don't forget about the short and long-term costs
While parts alone are an important factor when considering total project costs, for our purposes, we did not consider costs associated with the solar modules, inverters, or other components. Here are the major cost factors we considered:
Mounting Material Costs (covered above)

Mounting Labor Costs (direct and indirect)

Mounting Materials Shipping/Logistics Costs
Taking into account these costs, a rail-less system would save about 85% of the material by weight, 90% by volume and 35-50% in hard goods cost. It saves at least 30% in installation labor, and saves more than 50% off the shipping costs. Installing a rail-less mounting system can lead to 40% lower overall costs than installing with rails. The savings can be even greater if you consider logistics and potential extra costs for handling, shipping, and storing long rail sections. Micro-rail systems come in somewhere between rail-based and rail-less.
Other "hidden costs" of solar
During a solar PV system's lifetime, there are operations and maintenance (O&M) costs that impact overall costs. A predictable example may be inverter replacement. But unpredictable costs result from the questionable integrity of manufacturers who don't produce durable, high quality mounting components. An example could be using open-cell foam material for waterproofing. It will cost thousands to dismantle a system to replace the disintegrated material when the roof starts leaking in a few years.
It is not wise to use unproven parts that may jeopardize system performance. Trying to save a penny or two per watt can cost a fortune when something fails. Make sure the manufacturer has performed proper testing and has approvals from stakeholders (e.g. building departments, metal roof manufacturers, code authorities). If some issue arises, working with companies that offer test data, approvals and a lengthy, proven track record of standing behind what they sell will mean less time and money than solving the problems of inferior goods.
Installing cost-effective solar is not cut and dry
You need to understand the project goals and then assess the pros and cons of what is available. It is critical to calculate and compare all the major costs for each choice and balance any differences in your estimated O&M and electrical cost savings. It is very important to choose the best fitting, highest quality parts from reputable manufacturers that will provide you great service and look after your interests throughout the process.
Need help finding the best solar solution for your project, learn more about S-5!'s solar mounting products here. We offer PV solutions for rail and rail-less mounting as well as options for attaching module level power electronics such as solar inverters and optimizers.