Every year, accumulated snow unexpectedly slides off metal roofs, causing hundreds of millions of dollars in property damage, personal injury and even death. But the truth is these calamities can be prevented by a tested, proven and engineered snow retention system.
There are two different approaches to restraining snow on an exposed-fastened (EF) roof: one approach is to apply unitized parts (individual, discontinuous parts commonly known as snow stops or cleats) on the roof; the other is to attach continuous snow retention systems (commonly known as snow fences or snow bars). Both approaches increase friction between the metal roof and snow, but not all products and methods of attachment are created equal. Some are highly unreliable and can damage your roof – even in the absence of snow.
Today, we'll cover mistaken impressions about EF roofing and snow. First, we'll explore if snow bars are necessary. Then, we'll compare cleats and continuous snow bar systems.
---
How Do You Know If Your Metal Roof Is Exposed-Fastened?

Check out this helpful resource.
---
Are Snow Bars Really Necessary on an Exposed-Fastened Metal (EF) Roof?
EF roofing is an economical metal roof option, which often leads people to ask, "Why should I spend money on snow bars?" The reason is simple: snow bars are vital to protect your family and property (roof, gutters and whatever is below) and reduce liability issues. The forces of snow are incredibly powerful. Even if a rooftop snow slide doesn't cause injury or harm to something below, damage from sliding snow could require you to totally replace your roof or live with leaks and maintenance issues for the rest of its service life. You need a system capable of resisting the enormous forces of sliding snow – and one that will do it reliably year after year.
Let's take a look at the effectiveness of the strategies we see in the field.

(Damage to an exposed-fastened metal roof after installation of an untested, makeshift system. When subsequent snowpack released suddenly, it easily ripped the system from the roof.)
Cleats vs. Continuous Snow Bars
Cleats (also called snow breaks, snow jacks, snow stops, etc.)
Cleats are standalone pieces affixed at intervals across the roof. They are offered from many vendors in plastic or metal.
(Watch what happens when glued-on cleats become brittle and fail prematurely.)
Plastic

Plastic cleats offer a much shorter service life than their metal counterparts.
The petroleum content of the plastic dries out over time, becoming brittle and prone to breaking.

Their holding strength can be tested but seldom is, and the effectiveness of their strength deteriorates with age and embrittlement.
When correctly engineered to the project, they often require vast quantities to complete the job, increasing the cost of what initially seemed like a less expensive option.
When attached with screws, the fasteners and waterproofing needed to protect your EF roof are often of questionable quality.
When glue is used to adhere the cleats to the roof, it degrades and loses its holding strength with exposure to the elements and eventually fails, precipitating a rooftop snow slide and leaving unsightly glue marks on your roof.
Clear plastic cleats are sometimes considered an aesthetic choice, but they glow in reflected sunlight, which makes them quite conspicuous and not "invisible" as advertised.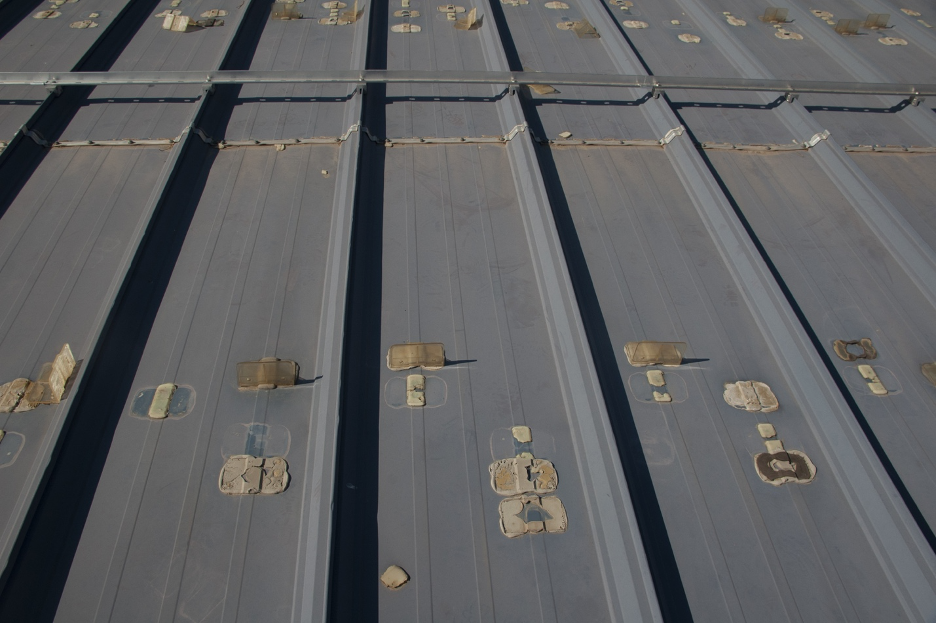 (Plastic cleats left unsightly glue marks on the roof after failing.)
Metal

Although some metal cleats are tested for holding strength, most are not.
They often require vast quantities to complete the job, increasing their overall cost.
When glue is used to adhere the parts to the roof, it degrades with exposure to elements and eventually fails, leaving unsightly glue marks on your roof.
When screwed into the roof, the fasteners and waterproofing are often of poor quality, leaving your roof unprotected from moisture and the elements after a short period.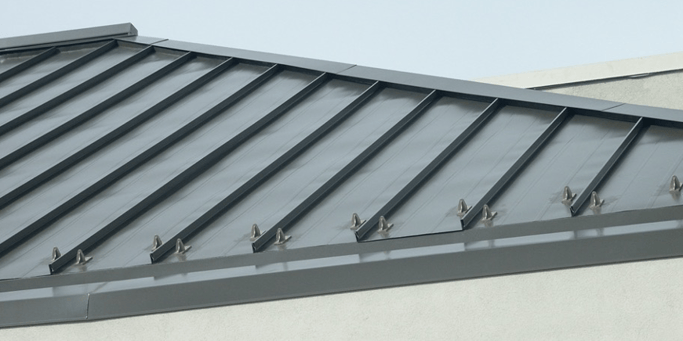 (Installation of glued-on metal cleats)
Continuous Snow Bar Systems
Continuous snow bars should generally run the length of the eave line, and they come in two types: improvised systems created from strips of sheet metal angle; and snow bars purposefully designed to hold back accumulated snow. Here's a breakdown of these two options.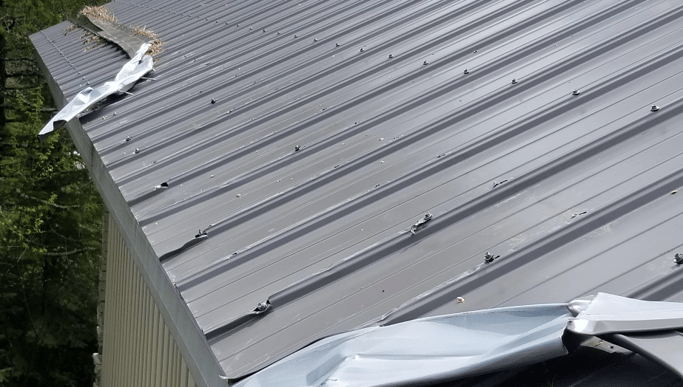 (A failed piece of bent sheet metal "snow bar" after a sliding snow event. The detached screws left open holes in the metal roof. This damage is beyond any satisfactory repair—the whole roof required replacement.)
Thin Pieces of Sheet Metal & Bent Trim

Mounting pieces of sheet metal or bent trim is a superficial fix and not designed to hold back the real forces of snow. Because these fixes were never engineered nor tested for snow loads, they may look pretty, but they create a false sense of security and leave you open to potential roof and property damage and even injury to passersby.

They cannot be properly affixed into the substrate or structure to withstand accumulated sliding snow.

They are often waterproofed improperly (or not at all).

When the metal strip or trim fails, it leaves holes and can cause other serious damage to your EF metal roof.

This strategy is often viewed as a less expensive method for a continuous snow bar system, but what will the repairs ultimately cost you?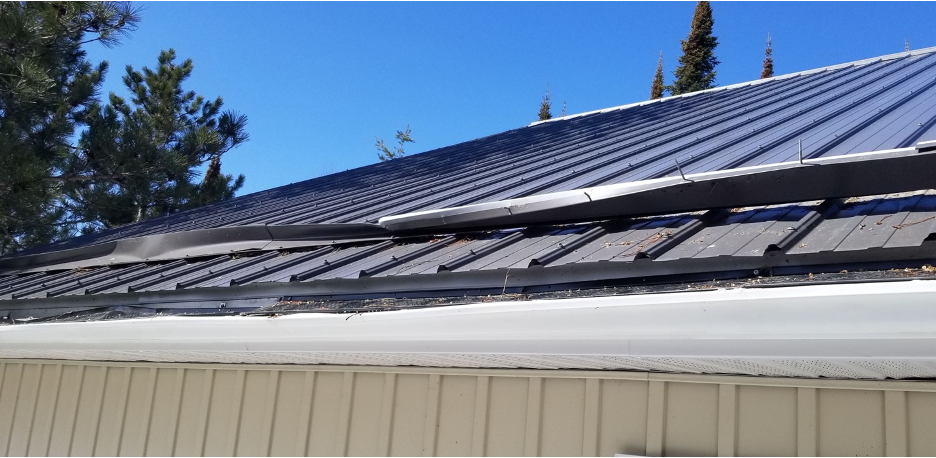 (Bent sheet metal or trim pieces are not tested nor intended to be used as snow bars and commonly fail, creating roof damage and falling snow hazards.)
Clearly, these improvised systems are not wise choices. First and foremost, choose a system designed and tested for safety to hold back the immense forces of snow on your EF roof.
Verified Snow Bar Systems
These systems are "verified" because they are designed specifically to retain snowpack and allow it to exit the roof in a controlled way – through thaw, evaporation or melt water.
How Do You Know If Your Snow Bars Will Hold Back the Snow?
The only way to ensure your system will hold up to the challenge is to ensure it has been appropriately load tested and engineered to your specific EF roof and location. The specific forces the system will experience should be calculated for the roof using:
Your roof's design snow load.
Your EF roof panels' type.
Your roof's slope (angle).
Your roof's eave-to-ridge length.
---
Important tip: Be sure you secure into the valley of the corrugation or the flat of the trapezoidal rib panel and into the wood deck or structure below for the greatest holding strength.
Here are critical considerations when selecting a verified snow bar system:
(Continuous snow bar system installed on an exposed-fastened metal roof. Product shown: S-5! VersaGard™.)

butyl polymetric sealant in the bracket's base, offering you an estimated 60 years of weathertightness.

fasteners with EPDM gaskets (washers) to prevent moisture intrusion and corrosion.
---
---
Aesthetics and cost-effectiveness do not need to be sacrificed for reliable holding strength. A properly designed snow bar system can offer incredible strength for minimal cost, preserving the beauty of your roof.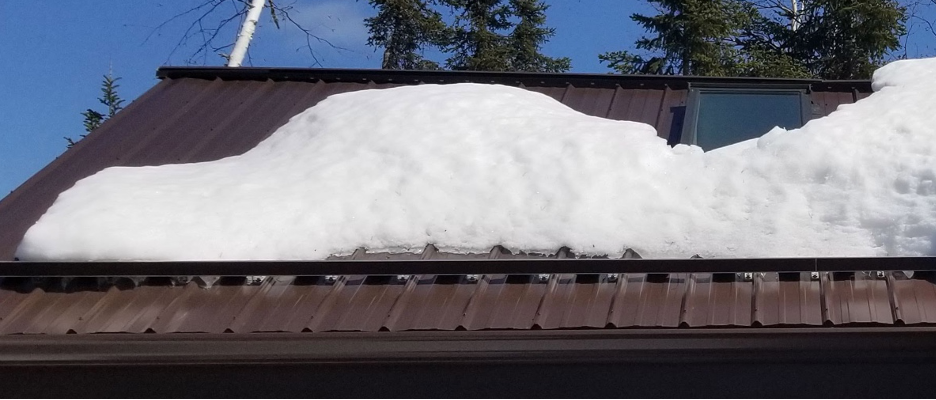 (Example of an engineered and tested continuous snow bar system on an exposed-fastened metal roof.)
Ideas to Hold Onto
Accumulated snow on your EF metal roof can release suddenly and cause injury or severe damage to anything below. An engineered and tested snow bar system – calculated to your specific roof – is the only sure way to restrain the forces of snow.
The market offers two main approaches to keep accumulated snowpack from falling off your roof: cleats (or unitized, discontinuous parts) and continuous snow bar systems.
Cleats come in plastic or metal and generally have a high failure rate for holding back snow.
| | |
| --- | --- |
| | They are rarely tested for strength, and plastic parts break over time. |
| | Their cost is misleading, as they often require many parts to restrain the snowpack. |
| | Screw-down cleats tend to use screws and fasteners with poor-quality waterproofing. |
| | The glue used with glued-down cleats can deteriorate and mar the surface of your roof – or worse. |
Continuous systems can be much more effective, but only when they are properly engineered for snow retention:
Never use pieces of continuous sheet metal or trim as snow bars. They are not designed, tested, nor engineered to hold back snow and can damage your metal roof.

Attach snow bar systems designed for the specifics of your roof and independently tested by credible third-party laboratories to prove their holding strength.

Look for systems paired with high-quality waterproofing and weathertight fasteners to last the life of your roof.

If attractiveness and cost are concerns, find a tested snow bar system designed to blend beautifully into your EF roof with perfect color matching.

Interested in learning more about verified products for EF metal roofing? Find out about our snow bar systems.