In September, we asked for your questions on exposed-fastened (EF) roofing. Thank you for your responses! We collected them and thought we'd answer one of your questions today. A reader asked us why it made sense to install snow stops on an EF metal roof. If your building is in a snowy climate, installing a continuous snow fence, or discontinuous snow stops or snow guards is essential. For your system to be effective, however, the installation must be well-designed and by calculation – not by "guess and by golly." There are common misconceptions around snow and metal roofing. So, today we'll cover why a qualified snow retention system properly engineered for your specific installation is important to EF roofing in heavy-snow regions.
How Do Snow Guards Protect Property and People?
The main reason to install snow stops or snow guards is to prevent snow from sliding off your roof. Many people mistakenly believe it's a bad idea to retain snow on top of their roofs and want to let it slough off naturally. But this is a misperception. Avalanching snow from a rooftop poses safety and property damage potential. To reduce these risks, your rooftop snowpack needs to be properly restrained, using project specifics and proper design of your snow retention system to those specifics.
When snow accumulates on the roof, it can shed suddenly in a large, uncontrolled release. This "rooftop avalanche" may cause serious damage to the roof, gutters and anything on the ground below, such as landscaping, property and people – making it a life safety issue.
How Do You Engineer a Reliable Snow Guard System?
There's only one way to ensure rooftop snow doesn't become a destructive avalanche. You need to engineer a snow retention system with the correct number, configuration and type of snow guards to withstand the specific forces acting on the sliding snowpack. Randomly adding snow stops to your EF roof is ignoring science and leaving things to chance or guesswork.
How do you become confident your system will adequately resist the forces? First, you need to know what those forces are. The forces of snow are measurable and must be calculated to design your snow guard system. You'll need to work with a vendor who can calculate the forces for you or do it yourself.
---
There are three parts to the design of a reliable snow stop or snow guard system:
| | |
| --- | --- |
| | The first task is to calculate the weight of the snow per square foot (using your specific geographic location's roof snow loads). |
| | Once you have the weight in pounds per square foot (psf), the next step is to multiply that figure by your rafter length (eave to ridge). And then multiply that number by the sine of the roof angle. The result tells you what the force is for each linear foot of eave. |
| | Next, you need to determine how the snow guard system will resist those forces without failing. The vendor should give you the tested "allowable" failure load of his attachments so that you can populate the attachments of the system appropriately. |
---
Take note! If there are changes in any one of the variables (slope, roof length, etc.), the force will change as well.

Learn how these forces are calculated in Metal Construction Association's (MCA) White Paper, Metal Roof Design for Cold Climates.
---
Once you've identified the force per linear foot of eave, you can accurately engineer your system. Simply divide the force by the allowable holding strength of the snow stop to determine the number of attachments needed within a given area.
Here's a quick example: if the math says the force is 500 pounds of force per linear foot and the attachment can resist 1,000 pounds, you'll need an attachment every two feet along the eave. With our Snow Guard Calculator, all the math is done for you. You just enter the roof slope, rafter length and snow load for your area.
Where Do You Attach the Snow Guards?
One of the most important things when attaching snow guards to an EF roof is to make sure your attachments extend through the roof into the substrate. Why? Because EF sheeting material alone isn't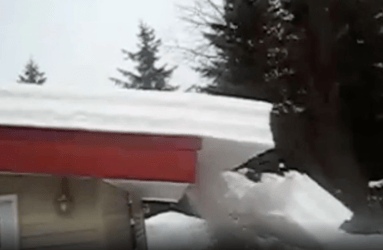 strong enough to hold the attachment when the forces of snow bear down on it.
For example, in the video of the rooftop avalanche above, five to six tons of snow evacuated from the roof in a matter of seconds. Clearly, you need to rely on the strength of the structure or deck to resist such massive forces and not the roof sheet alone.
This makes project-specific testing critical because the holding strength of your roof substrate varies from one system to another. Your deck might be wood purlins, steel purlins, oriented strand board (OSB) or 3/4-inch plywood, etc. – and each of these substrates has a different holding capacity. You need to know what that capacity is.
How Do You Choose the Right Snow Guard System for Your Roof?
Now you know the forces your snow retention system needs to resist. You also learned the importance of substrate-specific testing. At this point, you're ready to choose the best system for your project. Items to consider when selecting your system include:
| | |
| --- | --- |
| | Your EF roof's panel profile (corrugated, trapezoidal rib). |
| | The holding strength of the product/system selected in the substrate on your project. |
| | Your aesthetic preference. |
| | Cost |
Ideas to Hold Onto
Installing snow guards or snow stops on your EF metal roof is critical in snow country to prevent rooftop avalanches. Forces resulting from the snow must be measured through scientific calculations using your geography's roof snow load information and your roof's slope and rafter length. A change in any variable will alter the load, so be sure your calculations use job-specific information.
Always attach your system through the EF metal sheeting and into the deck or structure for reliable holding strength. Your roof profile, the system's holding capacity, aesthetic preferences and cost will also factor into your choice of a snow guard system. Through proper engineering and design, you can be assured your snow retention system will restrain accumulating snow to prevent damage and potential injury.
Thanks for your question! We'll answer another reader's question regarding EF roofing in an upcoming blog. In the meantime, if you're curious about any aspect of EF metal roofing, simply add it in the comment box below. And remember to subscribe to our blog to see the responses!