Have you been carefully (or not so carefully) monitoring that gravity-defying overhang of migrating snow that sits atop your roof? Glistening beautifully in the sun, it has stayed up there for days; it will surely stay up a bit longer, right? Sorry, no guarantee. Avalanches are unpredictable and catastrophic events. The snow will fall wherever and whenever it wants to – on you, a loved one, your car or sidewalk.
Enter snow retention. Snow guards help preserve your metal roof and allow snow drifts and snowmelt to exit the roof in a more controlled manner - avoiding the potential calamity of the rooftop avalanche.
Watch a Rooftop Avalanche in Action [VIDEO]
Snow Guards – Not Just for the Arctic Tundra
Whether in a snowy climate or not, constructing residential or commercial, or installing new or retrofitting an old building, metal is consistently the best choice for roofing.
Boasting versatility, durability, and sustainability, a standing seam metal roof lasts well over 40 years.
But there is often a misconception that snow retention is only necessary in places with extreme amounts of snow. You don't need that much snow to create a rooftop hazard.
Rooftop avalanche in Texas [VIDEO]
Also, metal isn't the only roof style susceptible to rooftop avalanche. A rooftop avalanche can occur on any type of roof. The more slippery the roof surface—the more likely the avalanche. That is why you should install an engineered snow retention system to help mitigate this occurrence.
The Science Behind a Rooftop Avalanche
The Science Behind a Rooftop Avalanche [VIDEO]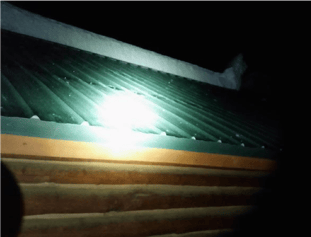 Rooftop Avalanche - Several feet of snow fell from this roof onto the children playing below.
Sudden release of snow off a rooftop is unpredictable. But there is some science to it.
In a nutshell (or snowball rather), falling snow forms a temperature-sensitive bond to the surface of a metal roof. Then, when that roof is warmed, whether from the sun or from building heat loss, the bond between the snow bank and roof is broken and a thin film of melt water lubricates the slide. Without snow guards in place, a several-ton blanket of snow can suddenly slide off the roof – damaging gutters, vehicles, and of course unsuspecting people. Nearly seven feet of snow fell off a cabin roof in Idaho, killing a 2-year old little girl and seriously injuring two other children.
This is what makes snow retention devices necessary: A snow guard increases friction between the roof and snow, retaining snow pack, so that it evacuates in a predictable and controlled fashion - rather than by sudden rooftop avalanche.

Progression of a Rooftop Avalanche
5 Reasons to Install Snow Guards
1. Protect Building Occupants and Pedestrians
Safety first! The number one reason to install snow guards is to protect the people who walk below it. Another deadly rooftop avalanche incident occurred last year at a ski resort near Lake Tahoe. A mother and her son died after being buried by a rooftop avalanche.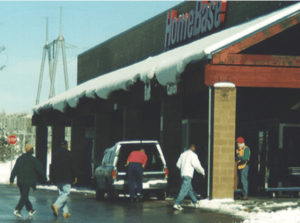 Image 4: Metal roofs are often used for canopies at entrance/exit doors where pedestrians are walking, and vehicles are loading.
Ensuring safe passage into buildings is really a no-brainer. If you can help prevent unpredictable falling snow loads, why wouldn't you? Assuming that mound of snow hanging precariously over the roof edge will probably fall AFTER you walk under it is living just a bit too much in the danger zone (cue Kenny Loggins).
So, protect the "danger zones". Metal Roofs are also often used for canopies at entrance/exit doors where pedestrians walk and vehicles load. Protect these areas with snow guards.
2. Limit Liability
Do you own a business where endless numbers of people walk in and out? If a large amount of snow from your roof falls on someone, guess who is potentially liable? You. Putting up a few signs in an attempt to reduce your liability holds no water (and no snow for that matter). The snow hasn't fallen yet, but can you guarantee it won't fall when an unsuspecting individual deigns to walk below?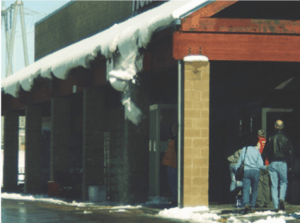 Image 5: It is imperative that these areas be protected by snow guards. Watch what happens just after the vehicle in Image 4 has loaded and left the store.
Best practices for cold climate building design dictate that you should orient the roof so that the snow is diverted AWAY from passersby. But people will walk where they will – you must be aware of unprotected roof overhangs.
3. Protect Vehicles, Equipment, and Landscaping
Snow falling off a roof doesn't judge. It crashes down on whatever sits below. Snow guards help protect vehicles and equipment too. Snow might be fluffy and light when it falls, but once it piles up on the roof, gravity load of the snowbank increases – magnifying the weight that will land below.
As for landscaping, if the rooftop avalanche wasn't a direct hit, once it is piled up down below, that same snow bank can continue to cause additional troubles (e.g. causing repeated snow removal; direct damage to building walls; indirect damage caused by funneling melt water into, rather than away from the walls and foundations, etc.).
Do you think these warning signs reduce the liability of the owners – if snow comes crashing down onto an unsuspecting pedestrian? Are the signs an indication that the building owner knew of the hazard?
| | |
| --- | --- |
| | |
| (1) Damage from a rooftop avalanche | (2) Damage from a rooftop avalanche |
4. Protect Building and Roof Elements
Protect lower roofs from tons of snow crushing it below. Rooftop avalanches can shatter windows, rip off gutters, tear away siding, demolish vents, flatten seams, buckle panels, infiltrate the roof membrane and allow water to infiltrate the panels, exposing them to corrosion and degradation.
| | |
| --- | --- |
| | |
| Lower roof damage from rooftop avalanche | Roof damage from rooftop avalanche |
5. Reduce Maintenance Costs
Preserve the integrity of your metal roof by preventing needless and careless damage or wear and tear that the roof was never designed to handle or support. The Metal Construction Association's (MCA) technical document, Qualifying Snow Retention Systems for Metal Roofing stresses the importance of a properly engineered roof and a properly engineered snow guard system.
But you must calculate the force of the snow for a specific area that the snow guards will restrain and engineer the strength of the system accordingly. The right snow retention system will then help spread these loads across the roof panels - holding snowpack in place until it slowly evacuates the roof by thaw and evaporation – greatly reducing the threat of a deadly rooftop avalanche.
From the Arctic Tundra to the Texas Panhandle
That awe-inspiring snowbank balancing off your roof won't stay there for long. Mitigate the danger zone by installing an engineered snow retention system on your metal roof. Preserve your roof and allow snow drifts and snow melt to exit the roof in a more controlled manner. Learn more about the snow retention systems S-5! offers. Then get that project off the ground with our snow guard calculator.