Part Three -
Your exposed-fastened (EF) metal roof offers a great opportunity to mount solar panels, snow guards, HVAC equipment or other accessories. But you need to protect your roof's service life and the performance of whatever you're installing. To help you make the best decisions upfront, we've created a series on 3 Tips for Mounting Anything to Your Exposed-Fastened Metal Roof.
In earlier posts of this three-part series, we covered:
Our final tip discusses the importance of load testing the brackets you use to secure your rooftop-mounted ancillaries. Let's take a look at why testing is vitally important.
Tip #3: How Does Load Testing Help You Protect Your Exposed-Fastened Metal Roof?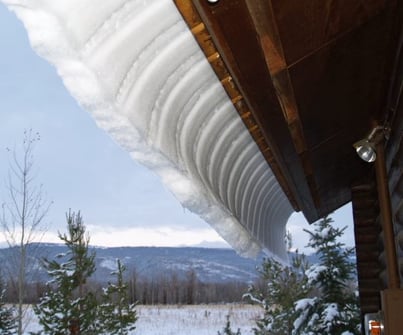 Whenever you attach something to your roof, it will experience various loads from forces of nature like wind and snow. Clearly, you want to be sure these forces of nature don't tear off or damage your mounted accessory – or your roof. But how can you know your attachment will remain secure? That's where reliable load testing comes in.
Load testing is the only way your attachment can be properly engineered so it doesn't fail. Knowing the allowable load of the attachment is critical and can only be accurately calculated via testing.
Think about it this way: you'd never buy a new car that hasn't undergone rigorous testing. Proper testing prevents property damage, needless risk and life-safety hazards. When it comes to your metal roof attachment, verified testing provides the information needed to engineer your attachment for similar property and life-safety protections.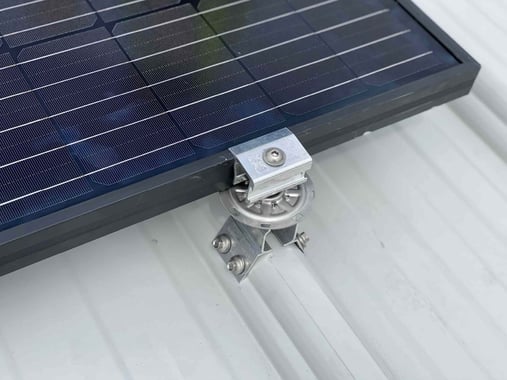 Figure 1: Example of a bracket installed through the panel rib, sheeting only.
(Product shown: S-5! RibBracket I-V™)
So what's the best way to attach to my roof?
EF roofing comes in a range of rib panel profiles, various substrates and different types of roofing materials. Attachments can be installed via sheeting only or through the panel into the supporting deck (or other structural elements) below. (See Figure 1, above and Figure 2, below.) One installation location is not necessarily better than the other as long as the attachment has been tested and engineered to the specifics of your job. It all depends on your roofing materials and how severe the forces of wind, snow and seismic are at your building's location.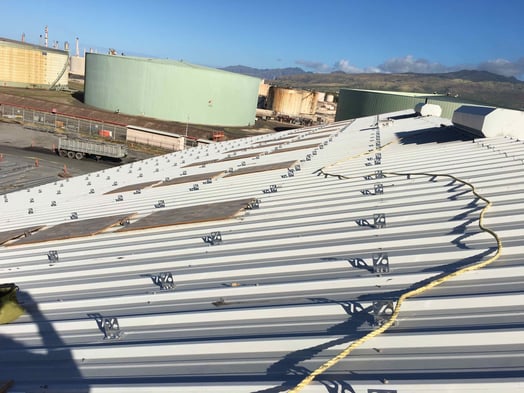 Figure 2: Example of a bracket installed through the panel and into the supporting deck/substrate.
(Product shown: S-5! VersaBracket™)
When mounting a system or equipment on your EF metal roof, you'll use brackets to attach the accessories to the roof's rib profile or through to the structure. So the number of brackets you use and the strength of each one must be adequate to resist the forces and prevent failure.
| | |
| --- | --- |
| | |
| Location when attaching to the roof's rib profile. | Location when mounting through the structure. |
---
The brackets need proven dependability for decades to match the service life of both the mounted accessory and the roof.
---
If the attachments fail, they may:
Create holes, damaging the integrity of your metal roof and/or invalidating the warranty.
Weaken or even destroy the mounted roof accessory's performance.
Allow the accessory to slide or blow off the roof, harming property or people below.


Clearly, there's a lot at stake!
But many contractors and installers grab brackets simply because they "look" right, putting the mounting accessory and the roof at risk of failure.
How Can You Be Sure Your Attachments Are Adequate for the Loads They Carry?
Proven testing is the only way attachments can be engineered to protect your roof, the installed accessory, and property and/or people below.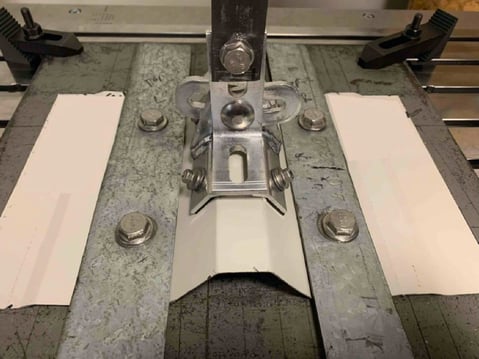 An exposed-fastened bracket undergoing load testing.
(Product shown: S-5! ProteaBracket™)
Your attachments' strength and durability should never be left to chance.
With so many variables in EF metal roofing, look for tests conducted on your specific panel profile, substrate, and roofing materials.
Rigorous testing protocols matching your in-field conditions can confirm the pullout strength and stability of the fasteners (as well as various other failure modes) with respect to mounting in the sheeting only or into the support structure. This kind of testing is the vendor's responsibility. If the vendor does not show you proof of testing, he probably doesn't have it.
Everything has a failure point. Testing determines where the failure point is so your project can be precisely engineered to the job specifics, resulting in a properly designed installation.
What Kind of Testing Should Be Conducted to Find Failure Points?
First, you want to be sure the brackets have been tested by a credible lab, like a third-party, ISO 17025-accredited laboratory. You'll also want to buy brackets made from certified raw materials following ASTM standards.
To determine whether the bracket can resist the forces acting upon your accessory mounting, tensile strength tests should have been performed and proven by the mounting bracket vendor. These tests must be run in two load directions: parallel to the rib and normal to the rib.
| | |
| --- | --- |
| | The parallel-to-rib testing (drag load) focuses on the pulling of the bracket and the fasteners from forces along the rib such as snow sliding down the roof. This testing is used to measure loads for heavy-duty applications like snow guards. |
| | Negative load normal-to-rib testing (pull-up) assesses the fastener's vertical connection to the roof and the integrity of the bracket. The main force here is wind uplift, which will have a significant impact on the attachment. This testing is usually conducted for lighter-duty applications like solar panels and other rooftop ancillaries. |
These two directional tests must identify the point of failure for bracket-to-panel-sheeting connections and bracket-to-substrate connections.
Tests should clearly show the following:
Ultimate load the bracket achieved (at the point of failure)
An appropriate factor of safety to assure the bracket never reaches the failure point
Allowable load (once the safety factor has been applied)
Mode of failure during the test

If you're interested in what constitutes an attachment "failure" in the parallel-to-rib or normal-to-rib directions on an EF metal roof, you can review the details of our testing protocols.
How Is Your Attachment Engineered to Resist Loads?
With reliably tested brackets and their identified allowable load, your attachment solution is ready to be calculated and engineered.
Let's look at a real-world example of how load testing results relate to rooftop mounting:
If your system experiences a design load of 1,000 pounds due to uplift or parallel forces and the chosen bracket can take an allowable load of 250 pounds, then your project will need four brackets.
---




Okay, we know few projects are as simple as the example above. Values change with attachment spacing, quantity and materials. That's why S-5! does the calculations for you.

Our Project Configurator allows you to enter your job's basic information, and it will calculate exactly what you need – then even give you a bill of materials.
---
Ideas to Hold Onto
Don't take chances. Verified and proven testing is essential to ensure the attachments will withstand the forces of nature for the service life of your mounted system and EF metal roof. Let's review some key points on testing:
Proper testing enables system engineering.
Testing data should clearly identify the failure point and attachment's allowable load so your mounting solution can be properly engineered and designed.
For validity (certification), tests should be performed in a third-party, accredited lab.
Tests should be run in two directions: parallel to rib and normal to rib.
Finally, prudent engineering ensures system performance and life-safety.
This wraps up our final lesson on 3 Tips for Mounting Anything to Your Exposed-Fastened Metal Roof. Be sure to check out Tip #1 Materials' Compatibility and Tip #2 When to Use EPDM and Butyl Sealants if you missed either of them or just want a refresher.
We hope this series sheds light on important factors to consider and helps you make the best choices for a successful, long-lasting metal rooftop installation.