Swarf are the shavings of metal debris produced during machining. These chips or filings can also be produced during woodworking, grinding and other manufacturing processes. Metal, wood, plastic and stone can all produce this debris which is often called "swarf".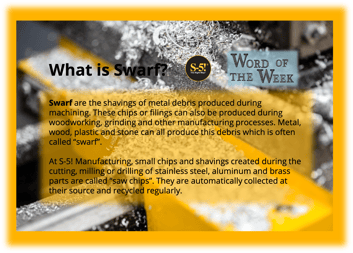 At S-5 Manufacturing, the small chips and shavings created during the cutting, milling or drilling of stainless steel, aluminum and brass parts could be called "swarf", but we commonly call them "saw chips" or "turnings" and produce tons of them each month. In that case, they are automatically collected at their source by special equipment and recycled regularly. We recycle approximately 40 Cu. Yd. or 14,450 lb. of aluminum chips every month. That amounts to over 7 tons per month of "swarf". There are additional shavings produced when machining our brass and stainless steel clamps and brackets, but that volume is much lower than the aluminum.
As concerns metal roofing, the shavings and chips created by drilling and cutting roof panels are commonly called "swarf". These fragments are typically uncoated steel and will inevitably rust very quickly if they are not removed soon after being created. These drill shavings are the result of self-drilling screws used to attach brackets to exposed-fastener roofs. Such screws remove material from the metal skin and deposit it on the roof panels in order to pilot their hole.
The term "swarf" when related to metal roofing is also used in general for other metallic debris left on the roof, such as bits of tie-wire, screws and poprivit shafts.
---
Word De-Construction

Word of the Week:

Swarf
PRONUNCIATION: /swôrf/
PART OF SPEECH: Noun
SENTENCE: // After installing the self-drilling fasteners, the worker carelessly left swarf across the panel – the next morning, they were rusted and had stained the roof panels.
SYNONYMS AND RELATED WORDS: fine chips, filings, "sawdust", chips, metal debris, drill shavings, metal fragments, particles, abrasive fragments
What effects does swarf have on the roof?
Swarf in most cases does not typically impact Al-Zn - Galvalume® -metal roof panel performance. This is because the Al-Zn coating on metal panels will generally prevent the steel from rusting. But it does impact metal roof panel aesthetics. Leaving swarf on the panels after drilling will cause red corrosion spots to form and permanently stain the roof. So, once the swarf is removed and the steel panel is spared from corrosion, the iron oxide stain will now show up as red spots on the roof - permanently. This is because the coating oxidizes very rapidly, covering and sealing the stain within the coating. The actual swarf can still be removed, but not the rust stain. This can and does happen—even overnight. When a building owner sees these rust stains on his new roof, it may be difficult to convince him that no real damage is done.
But while swarf does not usually harm Al-Zn coatings, in severe cases it can. Damage can be done to the coating if it reaches melting temperatures. Al-Zn melts at about 1200ºF. If the swarf is red-hot when it lands on the panel surface, it can actually melt the coating completely away, or reduce its thickness.





The above image illustrates the result of cutting material on a roof with an abrasive blade in a demolition saw.

Hot swarf can cause permanent damage to metallic coatings, leading to this accelerated corrosion of the roof.

Swarf particles have caused rust stains on this metal panel
On galvanized (zinc-coated) steel panels, this is an even greater threat because zinc's melting temperature is half that of Al-Zn. On pre-painted steel sheet, the paint coating can scorch at still lower temperatures. This type of functional damage to the roof is usually caused by field-cutting roof panels with an abrasive blade in a circular saw (such as a demolition saw). These cutting methods should be avoided in favor of "cold cutting" with hand or electric shears, or by using a special blade in a circular saw that cuts without creating so much heat.
Humid Climates
Humid climates are more susceptible to this rust spotting. The ever-constant moisture and humidity accelerates the staining and oxidation process.
Preventing Swarf
You can't prevent swarf from being created if drilling or cutting on a roof. But you can be more diligent in cleaning up after performing these tasks. This means dusting or sweeping off the area after drilling or cutting.
Best Practices Regarding Swarf
Magnets can be used to pick up these shavings or simply sweep the swarf off the panels at the end of each workday. Cleaning up swarf has a health benefit too. Since swarf is made up of tiny particles, it can be easily inhaled.
Proper Swarf Removal
Brush or broom clean swarf from the surface with a soft-bristled brush to remove all of the steel particles before they rust!

Don't use steel wool to scrape off rust stain. You will only be creating more swarf in the process and the steel wool will abrade and thin the protective metallic coating or the paint coating.

If rust stains are mild, on pre-painted steel sheets, household cream cleaners or dish-washing soap will often remove it. Avoid the use of industrial cleaners as they may damage the paint finish.

There is no known remedy that works flawlessly for a stain that is locked into an Al-Zn coating. Attempts to clean rust specks from Al-Zn generally result with damage to the coating and even greater cosmetic annoyance.
Metal Roof Mounting Systems & Brackets
If you utilize S-5! products with our piercing-point screws for these attachments, no cleanup is ever required because no swarf is ever created. Our specially designed fastener does not drill a pilot hole—it just pierces through the thin gauge sheet with a needle point. This screw technology has other benefits, too:
Increases stripping torque through better thread engagement

Increases withdrawal strength

Eliminates self-drilling screws that tend to "walk" during installation

A head design that helps to prevent over-compression of the washer

The head design creates a cavity for the washer protecting it from UV degradation

It utilizes a black EPDM washer—the best rubber chemistry available for the life of the roof

And everything exposed to the weather is stainless steel—for the life of the roof!
---
Watch the video below to learn how swarf forms and causes rust when using drilling screws - and how S-5! fasteners prevent swarf from settling onto metal panels.
---
Two S-5! Brackets to Consider for Your Next Exposed-Fastened (and Swarf-Free) Mounting Solution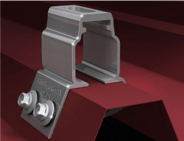 RibBracket - RibBracket I-V™, comes with a factory-applied EPDM rubber gasket seal already on the base, and the reservoir conceals the EPDM from UV exposure, preventing drying and cracks. These brackets are thoroughly tested for strength, have no moving parts, and are flexible enough to fit varying trapezoidal widths.
RibBracket I-IV is the perfect match for our S-5-PVKIT 2.0, EdgeGrab or bottom-mount rails.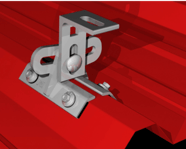 ProteaBracket - The ProteaBracket™ is mounted directly onto the crown of the panel, straddling the profile. No surface preparation is necessary: Simply wipe away excess oil and debris, align and apply.
Secure through the pre-punched holes using the appropriate S-5! fasteners or Bulb-tite rivets for the supporting roof material. No additional mounting foot required (or recommended).
---
S-5! Clamp and Bracket Solutions
View the Entire Line of S-5! Brackets.
---

Word of the Week: What is a Corrugated Metal Roofing Panel?
Word of the Week: What is a Trapezoidal Rib Roof Profile?
Standing Seam vs Exposed-Fastener Metal Roofs
Updated - Solar and Exposed Fastener Metal Roofs - 2019 Best Practices